Additional Guidelines for Abstract Submission
Logging into a JACoW profile or creating a new one
• Connect to the SPMS system here: Login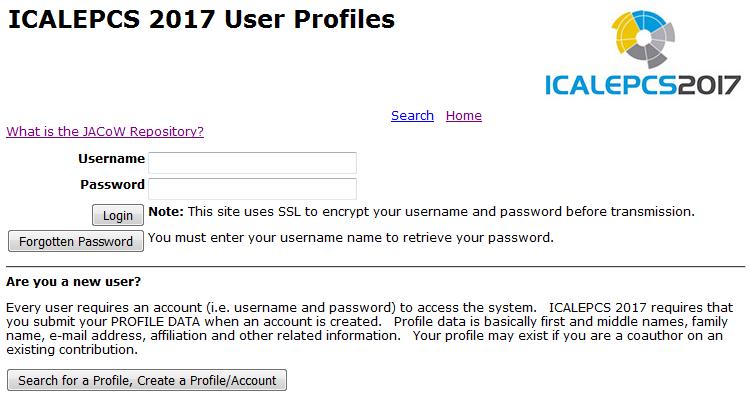 • Enter your login name and password. If you are successfully logged in, please move to the paragraph Submitting your abstract. If you do not have a profile or you cannot remember your login name click on the "Search for a Profile/Create a Profile/Account" button, then enter your surname or email address to try and find it.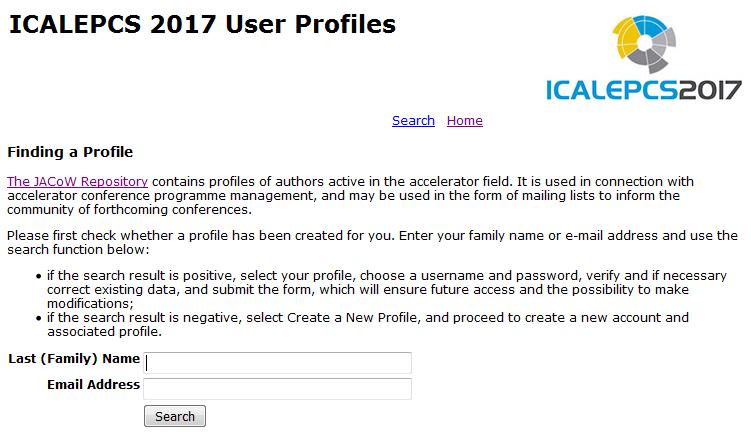 • Choose your profile from the list provided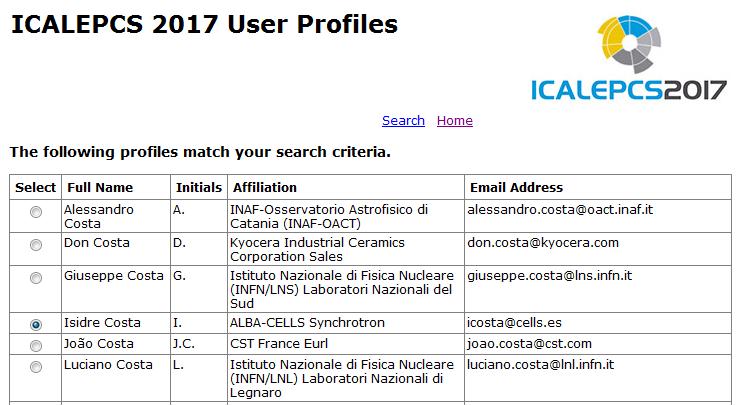 OR click the link "Create a New Profile" and enter your information.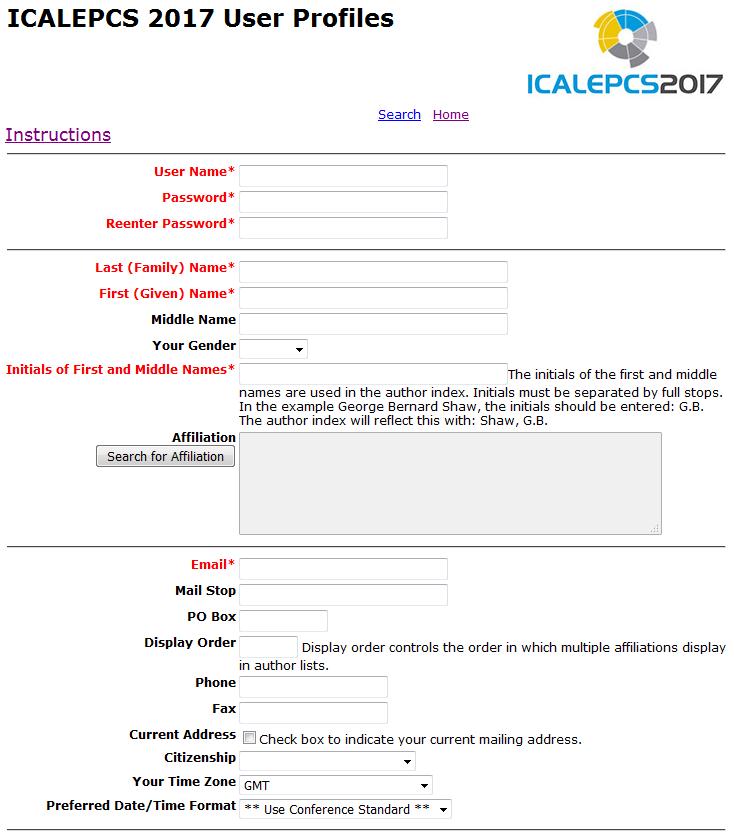 Should your profile be very close to one already existing you will get the following page. If this is effectively you, this means you already have a profile. It is important for there to be one and only one record of each person in the SPMS database. Therefore either click the "Select Profile Above" button to select the profile suggested, or the "Create My Profile" button to create the profile using the data you entered in the screenshot above.
• When your profile has been created you will click "Continue", then get the following screen:

• Click on "Submit A new Abstract" in order to start abstract submission.
Submitting your abstract
You are now ready to submit your abstract(s). If you did not follow the procedure above, because you already have a profile, you will nonetheless see the above screenshot once you have logged in.
• Click on the 'Submit a New Abstract" link, then enter the form with your abstract details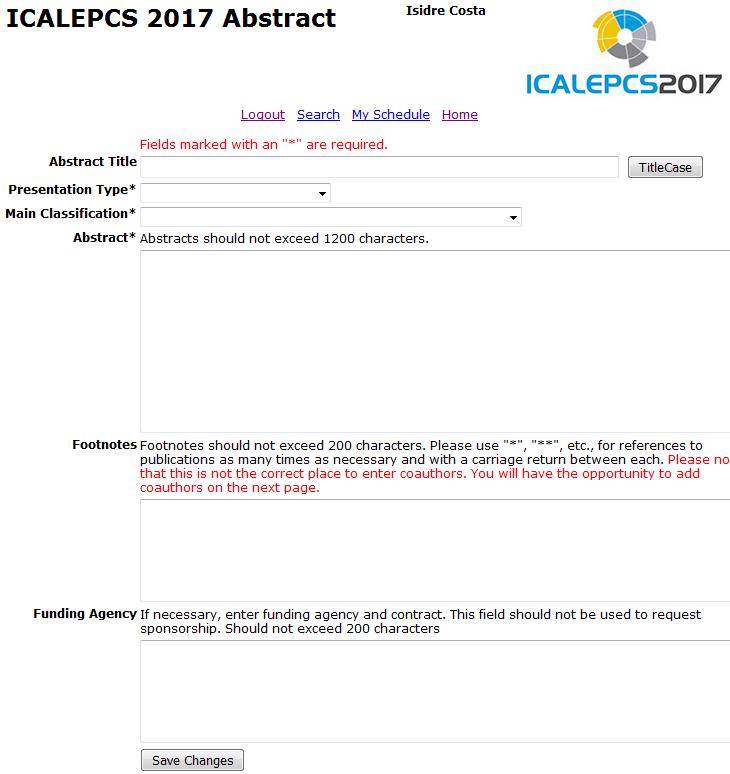 • You should then add the authors to your abstract. Click on the "Add a New Co-Author" link. Note that failure to enter all co-authors means that they will not appear in the SPMS and will subsequently not appear in any searches made on the JACoW database for this conference.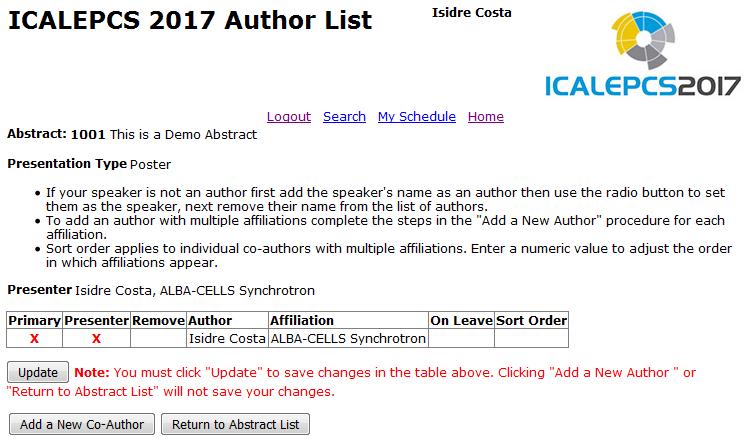 • Enter you co-authors by searching the JACoW database, first by entering a name or email address:

and selecting the author from the list of suggestions: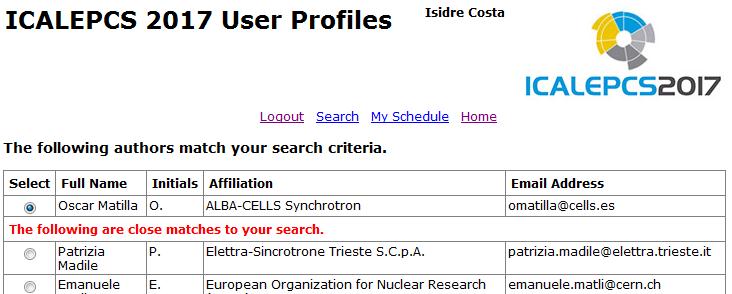 then select an affiliation:

• Continue in this way until all of your authors have been added.
• Once you have finished you can click the button "Return to abstract list" which displays your abstract(s) and the links enabling you to modify them if necessary up until the deadline (9th April).

Please contact the This email address is being protected from spambots. You need JavaScript enabled to view it., if you have questions or difficulty submitting your abstract.